Overview
Achilles tendinitis is inflammation of the Achilles tendon, the fibrous tissue that connects the heel to the calf muscles. This condition is often caused by irritation of the tendon and typically affects those who play sports. However, older individuals who suffer from arthritis may also be affected. Achilles tendinitis is typically the first stage of an Achilles tendon injury and should be treated right away. Without treatment, the tendon can tear or rupture, which may require surgery.
Causes
Achilles tendonitis occurs in sports such as running, jumping, dancing and tennis. Other risk factors include participation in a new sporting activity or increasing the intensity of participation. Poor running technique, excessive pronation of the foot and poorly fitting footwear may contribute. In cyclists, the problem may be a low saddle, which causes extra dorsiflexion of the ankle when pedalling. Quinolone antibiotics (eg, ciprofloxacin, ofloxacin) can cause inflammation of tendons and predispose them to rupture.
Symptoms
Pain anywhere along the tendon, but most often on or close to the heel. Swelling of the skin over the tendon, associated with warmth, redness and tenderness. Pain on rising up on the toes and pain with pushing off on the toes. If you are unable to stand on your toes you may have ruptured the tendon. This requires urgent medical attention. A painful heel for the first few minutes of walking after waking up in the morning. Stiffness of the ankle, which often improves with mild activity.
Diagnosis
When diagnosing Achilles tendinitis, a doctor will ask the patient a few questions about their symptoms and then perform a physical examination. To perform a physical exam on the Achilles tendon, the doctor will lightly touch around the back of the ankle and tendon to locate the source of the pain or inflammation. They will also test the foot and ankle to see if their range of motion and flexibility has been impaired. The doctor might also order an imaging test to be done on the tendon. This will aid in the elimination of other possible causes of pain and swelling, and may help the doctor assess the level of damage (if any) that has been done to the tendon. Types of imaging tests that could be used for diagnosing Achilles tendinitis are MRI (Magnetic resonance imaging), X-ray, Ultrasound.
Nonsurgical Treatment
If you have ongoing pain around your Achilles tendon, or the pain is severe, book an appointment with your family physician and ask for a referral to a Canadian Certified Pedorthist. Your Pedorthist will conduct a full assessment of your feet and lower limbs and will evaluate how you run and walk. Based on this assessment, your Pedorthist may recommend a foot orthotic to ease the pressure on your Achilles tendon. As Achilles tendinitis can also be caused by wearing old or inappropriate athletic shoes for your sport, your Pedorthist will also look at your shoes and advise you on whether they have appropriate support and cushioning. New shoes that don?t fit properly or provide adequate support can be as damaging as worn out shoes.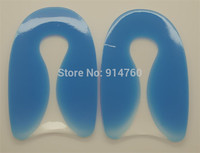 Surgical Treatment
In cases of severe, long-term Achilles tendonitis the sheath may become thick and fibrous. In these cases surgery may be recommended. Surgery aims to remove the fibrous tissue and repair any tears in the tendon. A cast or splint will be required after the operation and a recovery program including physiotherapy, specific exercises and a gradual return to activity will be planned.
Prevention
If you're just getting started with your training, be sure to stretch after running, and start slowly, increasing your mileage by no more than 10% per week. Strengthen your calf muscles with exercises such as toe raises. Work low-impact cross-training activities, such as cycling and swimming, into your training.